Portable Linear Earthing /ZPL-10/P1-3/3-25X
4,483.08 ₴
Portable earthing ZPL-10P1-3/3-25X is designed to protect those working at disconnected overhead line sections against electric shock in case of wrong voltage supply to this section or occurrence of induced voltage on it.
In stock
* Check the final prices, delivery costs and product availability with the manager.
UASAFETI LLC - manufacturer and supplier of personal protective equipment in Ukraine.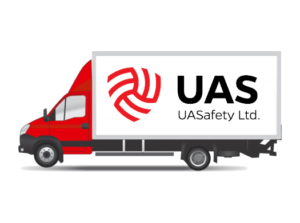 SELF-CHECKOUT
You can pick up the goods at our office at: Kiev region, smt. Kotsyubynske, 32 Ponomareva Street (near the metro station Akademgorodok).
Mode of operation Mon-Fri from 9:00 to 18:00.
DELIVERY IN UKRAINE BY DELIVERY SERVICE
We deliver to branch "Nova Posta" and other courier services.
Payment for the delivery of goods at the delivery service rates.
DOOR-TO-DOOR DELIVERY UKRAINE DELIVERY SERVICE
Cost of delivery is approximately 30-50 grams, depending on the service delivery and order volume. The goods are delivered to the address you specify. You pay the delivery fee to the courier when receiving the goods.
KYIV DELIVERY
Courier delivery to the address is carried out the next day after the order. Delivery cost UAH 50 for oversized cargo (up to 10 kg). For shipments weighing more than 10 kg, the cost of delivery is determined individually.
PAYMENT METHODS
Cashless
Payment by bank transfer is made at the cash desk of any bank or from the current account of your company
If you choose non-cash payment method, delivery is possible after receipt of funds to our account
Description
Earthing is produced in accordance with requirements of TU U21191464.011-2000. The rods for grounding and earthing are made of electrical insulating glass-reinforced plastic with high dielectric and mechanical properties and have a protective weatherproof coating. The conductor is covered with a polymeric, optically transparent jacket, which protects the copper conductor strands from mechanical damage. The polymer sheath can be made of plastic compound (X). In order to protect the conductors from breakage, the connection of the flexible copper wire to the clamps is made in the form of a cable lug on which a polymer transparent shock absorber is mounted.
TECHNICAL DATA
Rated voltage of electrical installations – 10 kV
Length of insulating part of rods, not less – 0.70m
Handle length, not less – 0,30m
Length of insulating rod in transport position, max – 1.3m
Length of earthing conductor, min. 10.0 m
Length of each shorting conductor, not less than – 1.6 m
Number of clamps – 3 pcs.
Number of insulation rods – 3 pcs.
Conductor cross-section, minimum – 25mm²
Thermal. resistance for 3 s. – 3.6kA
Current dynamic. resistance – 22,0 kA
Mass, not more than – 6,0kg
COMPLETE
Included are:
(a) Grounding ZPL-10P1-3/3-25X complete;
b) passport 05.01-010-112 PS.