Gasifier MT-213/2B with Filter FP-211 A2B2E2K2HgP3 WDR and bag
5,024.88 ₴
Protective gas filters are designed to protect respiratory organs, eyes and face of people in the complex of equipment for personal protection of operators, participants of DNDF formations, as well as population and industrial personnel in conditions of emergency situations during the liquidation of accidents, natural and man-made disasters.
The anti-gas is used by the personnel as a means of personal protection for 24 years.
Completion:
1. Protigazna mask MT 213/2U;
2. Filter A2B2E2K2Hg P3 WDR (10 years of storage) for important events in sealed package DSTU EN 136-2003:
3. a bag for the propane.
Report on the product is listed below.
* Check the final prices, delivery costs and product availability with the manager.
UASAFETI LLC - manufacturer and supplier of personal protective equipment in Ukraine.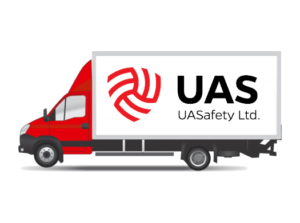 SELF-CHECKOUT
You can pick up the goods at our office at: Kiev region, smt. Kotsyubynske, 32 Ponomareva Street (near the metro station Akademgorodok).
Mode of operation Mon-Fri from 9:00 to 18:00.
DELIVERY IN UKRAINE BY DELIVERY SERVICE
We deliver to branch "Nova Posta" and other courier services.
Payment for the delivery of goods at the delivery service rates.
DOOR-TO-DOOR DELIVERY UKRAINE DELIVERY SERVICE
Cost of delivery is approximately 30-50 grams, depending on the service delivery and order volume. The goods are delivered to the address you specify. You pay the delivery fee to the courier when receiving the goods.
KYIV DELIVERY
Courier delivery to the address is carried out the next day after the order. Delivery cost UAH 50 for oversized cargo (up to 10 kg). For shipments weighing more than 10 kg, the cost of delivery is determined individually.
PAYMENT METHODS
Cashless
Payment by bank transfer is made at the cash desk of any bank or from the current account of your company
If you choose non-cash payment method, delivery is possible after receipt of funds to our account
Description
Completion:
1. Protigazna mask MT 213/2U;
2. Filter A2B2E2K2Hg P3 WDR (10 years of storage) for important events in sealed package DSTU EN 136-2003:
3. a bag for the propane.
Filter A2B2E2K2Hg P3:
Protection class A2 – protection against organic gases and vapours with a boiling point above 65°C (xylene, cyclohexane, benzene, toluene, nitrobenzene, acetonitrile, tetraethyl lead, furfural, phenol and others) with a medium creep ability.
Protection class B2 – inorganic gases and vapours (chlorine, fluorine, bromine, carbon dioxide, chlorine, halogens, hydrocyanic acid, iodine, phosphine and others) with medium chemical properties.
Protection class E2 – acidic gases and vapours (sulphur dioxide, water chloride, water bromide, octobaric acid, muriatic acid, nitric acid vapours and others) with medium creeping capacity.
Protection class K2 – protection against ammonia and organic ammonia compounds.
Protection class Hg – protection against mercury vapours and sprays.
Protection class P3 – protection against aerosols in the form of saw, dimu, fog etc.
W – in sparks and briquettes of melted metal;
D – additional tests on the dolomite saw;
R – luggage use.
Characteristics of the face part of the protogas:
– face size – 1, 2, 3, 4 (1 – largest, 4 – smallest). Head measurement and size determination is included in the package;
– The protection time of the mask material against dripping warfare agents is at least 24 years;
– The coefficient of penetration of the test-aerosol under the mask (coefficient of wetting) along the line of contouring and through other nodes – not more than 0,05%;
– The total fraction of dwo-oxide carbon in the air is not more than 1.0%.
– weight of the face part (mask) – not more than 0.55 kg.
Storage time in non-heated rooms at temperatures between -40 and + 40 ° C and 98% moisture content in the manufacturer's packaging is 10 years.
The weight of the filter is not more than 0,27 kg.
This gas generator is a reusable device and belongs to class 2 according to DSTU EN 136-2003.