Gas alarm Zond-1-57 (with wine sensor 6m. and shock absorber)
10,163.04 ₴
In stock
* Check the final prices, delivery costs and product availability with the manager.
UASAFETI LLC - manufacturer and supplier of personal protective equipment in Ukraine.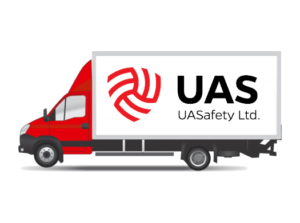 SELF-CHECKOUT
You can pick up the goods at our office at: Kiev region, smt. Kotsyubynske, 32 Ponomareva Street (near the metro station Akademgorodok).
Mode of operation Mon-Fri from 9:00 to 18:00.
DELIVERY IN UKRAINE BY DELIVERY SERVICE
We deliver to branch "Nova Posta" and other courier services.
Payment for the delivery of goods at the delivery service rates.
DOOR-TO-DOOR DELIVERY UKRAINE DELIVERY SERVICE
Cost of delivery is approximately 30-50 grams, depending on the service delivery and order volume. The goods are delivered to the address you specify. You pay the delivery fee to the courier when receiving the goods.
KYIV DELIVERY
Courier delivery to the address is carried out the next day after the order. Delivery cost UAH 50 for oversized cargo (up to 10 kg). For shipments weighing more than 10 kg, the cost of delivery is determined individually.
PAYMENT METHODS
Cashless
Payment by bank transfer is made at the cash desk of any bank or from the current account of your company
If you choose non-cash payment method, delivery is possible after receipt of funds to our account
Description
Gas alarm – Zond-1-57 (carbon monoxide, methane and hydrogen sulfide) with built-in sensor
Destination
For utilities, measuring the concentration of gases in wells, underground utilities to prevent poisoning of people by poisonous gases:
hydrogen sulfide (H2S)
carbon monoxide (CO) – carbon monoxide
methane (CH4)
The detector is used in any branch of industry and municipal services for control of gasses at micro concentrations, where toxic and harmful gases (methane, carbon monoxide, hydrogen sulphide) pose a threat to the health of workers:
in sewer manholes, manholes, tunnels, collectors of utility networks;
in emptied containers;
in boiler rooms as a leak detector;
on gas pipelines (to check the tightness of the equipment);
to check tanks, vessels and premises to determine their explosion protection before entering them or during operation.
The ZOND-1 signal transmitter emits light and sound signal, has 30 modifications depending on the controlled components, design (with remote or built-in sensor).
Operation principle and modes of Zond-1-57
Can be used as a leak detector. In this mode Zond-1-57 detects leaks of monitored components and monitors leak tightness of process units. Outputs a light and audible signal when the set nominal concentration values are exceeded:
Methane (CH4) – 300 mg/m3
Carbon monoxide (carbon monoxide, CO) – 50 mg/m3
Hydrogen sulphide (H2S) – 5 mg/m3
The Zond-1-57 gas alarm has one threshold, which is fixed.
Zond-1-57 refers to single component detectors by the number of monitored components. The Zond-1-57 detector is used only as an indicator of total gas concentration and leakage in the air in the presence of a sum of combustible gases.
Ambient temperature from -20°C to +40°C, relative humidity 30-80%.
Battery powered.
The battery charger ZU-10 is included to charge the battery.
Included in the State Registers of Ukraine and Russia.
Advantages and characteristics
Explosion-proof design.
Convection controlled media sampling.
Leak detector function, audio signal that varies depending on the level of gas and high sensitivity to detect and localize gas leaks.
Notifies you with a matchmaking singalong and low battery sound.
Fast warm-up time of up to 40 s.
Inertia is low.
Simple operation, accessible to personnel with low qualifications.
Minimal maintenance.
Select other modifications of Zond-1 (by controlled gas, formula)
| With integrated sensor | With remote sensor on 2 m cable | With remote sensor on 6 m cable | Controlled gas |
| --- | --- | --- | --- |
| ZOND-1-27 | ZOND-1-27 (2 m) | ZOND-1-27 (6 m) | (carbon monoxide = carbon monoxide, CO) |
| ZOND-1-37 | Zond-1-37 (2 m) | Zond-1-37 (6 m) | (hydrogen sulfide, H2S) |
| ZOND-1-47 | Zond-1-47 (2 m) | Zond-1-47 (6 m) | (methane, CH4) |
| ZOND-1-57 | ZOND-1-57 (2 m) | Zond-1-57 (6 m) | (carbon monoxide = carbon monoxide (CO), hydrogen sulphide (H2S), methane (CH4)) |
| ZOND-1-67 | Zond-1-67 (2 m) | Zond-1-67 (6 m) | (propane,C3H8) |
Features
Main
Virobnik
ROSS
Country of origin
Ukraine
Type
Industrial
Form Factor
Portable
Recognition
Ensuring work safety
Gases, which are designated as
Multi-component
Principle of action
Electrochemical
Dovzhina
185.0 (mm)
Width
45.0 (mm)
Visota
35.0 (mm)
Weight, g
230
Technical specifications
Controlled components
Carbon monoxide (carbon monoxide, CO), Methane (CH4), Hydrogen sulphide (H2S)
Verification component
Methane (CH4)
Principle of sampling
Convection
Alarm warm-up time
max 40 s
Alarm output time
not more than 30 s
Sound pressure level along the axis of the sound emitter at 1 m
at least 60 dB
Continuous operating time without recharging
at least 8 hours
Nutrition:
Battery powered, battery charger included
Average MTBF
at least 50,000 hours
Specification
Information for ordering
Packaging: Supply set: Gas alarm Zond-1-57 – 1 pc. Battery charger ZU-10 – 1 pc. Calibration chamber – 1 pc. Passport – 1 copy. Operation manual – 1 copy.